Identifying a Balboa PCB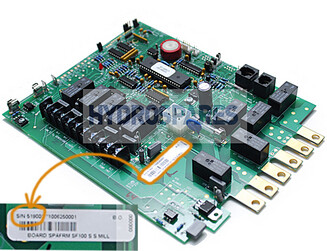 Identifying your Balboa PCB (printed circuit board) could not be simpler ! All Balboa PCB s have a white sticker placed somewhere on the board which normally contains a bar code and a few other numbers, you are after a 5 digit number usually starting with the number 5 this is also normally followed by *** and then a long number which is the unique serial number for the board
S/N 5XXXX***
"In the case of the image shown S/N 51900 which is a Spaform SF100 PCB "
Remember! its very important to match the numbers exactly even if they are only 1 digit out or have a extra set of numbers it can mean its a completely different board
To see a list of all our Balboa PCB part numbers have a look in the "Refine your search" box under Article No. in the Spa Packs, Panels & Spares categoryand select the one you require !
Should you see a article number you are not sure of or require help in any way please don't hesitate to contact us either by our contact us form or by phone on 01326 371488 where we will do our up most to help you
Don't forget you can upload a photo using our contact us form, as the old saying goes a photo speaks a 1000 words!