Trade Tuesdays Coming Soon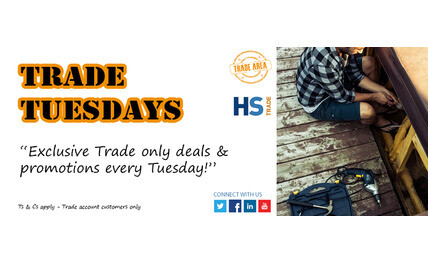 Look out for our exclusive Trade only deals every Tuesday
We'll be offering discounted products, special promotions & offers every Tuesday.
Valid for our Trade web account holders only.
Don't miss out
Check out our facebook page facebook.com/Hydrospares
Make sure you are signed up to to receive our email offers.
Call 01326 371488 for details of the offer
Ts & Cs apply
More in Hydrospares

Dear Customer,
Following the recent announcement from the Prime Minister it appears our business is allowed to stay open. However the safety of our staff and customers is paramount, so all staff that can work from home are now doing so. The warehouse is still being manned and whilst the couriers are collecting from us we will continue to process and dispatch orders as normal. If you need to contact our customer services team then please do so in the usual way.

Enjoy 30% Off for one day only.
Just Enter code BLACK at the check out

Enjoy 20% OFF orders over £25 this Easter Sunday and Monday
Just enter code EGG20 at the checkout.