Now stocking Pleatco Filter Cartridges!
Hydrospares is happy to announce we are now stocking a wide range of Pleatco filters cartridges - To realise the true benefits of using a Pleatco filter cartridge please read our help article "Anatomy of a Pleatco Filter Cartridge" in our help and advice centre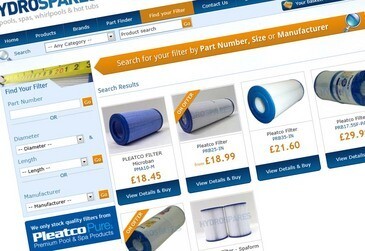 In order to assist you in finding the correct Filter, you can use our new "Find Your Filter" a powerful new filter search engine where you can search by your filter code (which all main brands will have stamped on the end caps) or by your filter length or diameter! (we have provided our measurements in both metric and imperial) alternatively you can search by your hot tub make to narrow down the list.
We always recommend you confirm your old filter sizes and look to the new one, just to make sure !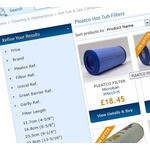 If you have found your way to our filter section through our category menu, you can also narrow down you search by using the "Refine your search" feature in the upper left hand side of the category menu, simply tick the product properties that best suit you needs. this has a more comprehensive list to select from than that of the "find your filter" feature
In the event you cannot find the filter you need, please contact us to see if we can help. You can either use the contact us page to send us a message and even upload a picture if needed. or give us a quick call on 01326 371488 where we are always happy to try and help

We hope you like our special features on the site, which are there to help our customers find the correct parts, should you have any feedback or recommendations please do let us know as we always strive to make our site and its features better!
More in Hydrospares

Dear Customer,
Following the recent announcement from the Prime Minister it appears our business is allowed to stay open. However the safety of our staff and customers is paramount, so all staff that can work from home are now doing so. The warehouse is still being manned and whilst the couriers are collecting from us we will continue to process and dispatch orders as normal. If you need to contact our customer services team then please do so in the usual way.

Look out for our exclusive Trade only deals every Tuesday

Enjoy 30% Off for one day only.
Just Enter code BLACK at the check out