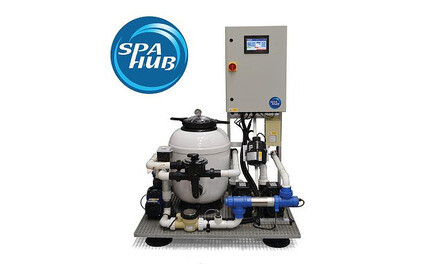 Hydrospares will be launching their new "Spa Hub" – Spa Controller & Commercial Equipment Pack at the next UK Pool & Spa Expo 22-24 November at the Birmingham NEC
The Spa Hub Pack is a pre-fabricated, fully assembled equipment system for commercial or heavy domestic spas and pools.
Aimed at pool builders, & contractors the "Spa Hub" is a plug & play system that makes installing new Spas a breeze.
It can be tailored to any project & can be configured to operate more than one spa or pool.
All the components are mounted to a frame and wired to a central control panel with a 7" Touch screen.
Simply position the pack, connect the plumbing & power plus any spa side touch buttons as required - It's that simple
Come along and see the 'Spa Hub' on the Hydrospares stand H12 at the UK Pool & Spa Expo.
More in Trade Shows

Splash-Tec scoops two golds and overall category winner at this years pool and spa industry awards

Come along to the Hydrospares stand at The UK Pool & spa Expo & try your luck in our Lucky Dip.

We are pleased to announce that Roland Patterson of Bos Leisure is the winner of our Hydrospares prize draw, "Guess the number of sweets in the jar."
Roland has won one of our fabulous Spa Sled Movers