Hot Tub Plumbing Pipe Sizes
Hot Tub Plumbing Pipe Sizes

Imperial Pipe Work
Hot tub & Spa pipe used by the UK hot tub industry is most often based on a North American set of standard pipe sizes.

Hot tub piping is sized according to "Nominal Pipe Size" (NPS); which is based on the nominal size of the pipe (in inches) and a 'Schedule'
The schedule specifies the wall thickness of the pipe, according to the NPS, Hot tub pipe is Schedule 40.
To ascertain your pipework size you will need to measure the outer diameter of the pipe using a pair of verniers if possible to get an accurate figure.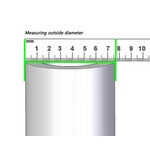 The table below shows the outside diameter of schedule 40 pipe, as used in many hot tubs:
| | |
| --- | --- |
| NPS | Outside Diameter |
| 3/8 inch | (14 mm) |
| 1/2 inch | (21.5 mm) |
| 3/4 inch | (28 mm) |
| 1 inch | 1.315 inch (33.40 mm) |
| 1-1/4 inch | 1.660 in (42.16 mm) |
| 1-1/2 inch | 1.900 in (48.26 mm) |
| 2 inch | 2.375 in (60.33 mm) |
| 2-1/2 inch | 2.875 in (73.02 mm) |
| 3 inch | 3.500 in (88.90 mm) |
| | |
Metric Pipe Work
In recent years it has become more common place to find Spas that run metric pipe especially if they are of Asian Origin
In the case of metric pipe work then the outside diameter in mm refers to the size of the pipe. So you just need to measure the outside diameter to ascertain the size
Metric pipe sizes in spas are commonly 20mm, 32mm, 40mm, 50mm

Whirlpool and Hot Tub Pipe Diameters Explained