Hot Tub Plumbing Pipe Sizes Explained
Choosing the correct pipe size can be confusing



At Hydrospares we realise that when it comes to choosing the correct pipe or fittings needed for your requirements, it can sometimes become a little confusing, especially when it comes to selecting the correct plumbing size. This Help Article is here to help you avoid the common mistakes made by so many when selecting the pipe & fitting size they need.


Step 1
The first step is to measure your actual pipe's OD (Outside diameter) in mm. Using a set of Vernier's is normally the quickest and most accurate way.
Helpful Tip

If you do not have access to a set of Verniers take a sheet of paper and wrap it around the pipe, mark where the paper overlaps. Straighten out and measure the distance in mm, this will now give you the pipe's circumference. Divide this by 3.14 which will provide you the pipe's diameter.
Its important to measure accurately, the difference between the metric and imperial pipe sizes only differ by a few mm.
Its also important to ensure you measure the actual pipe not the pipe fittings this can be difficult sometimes due to fittings being glued up against each other.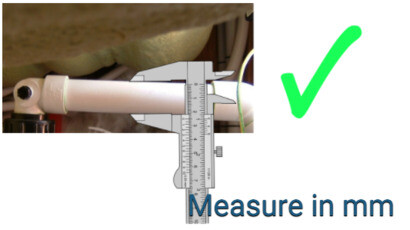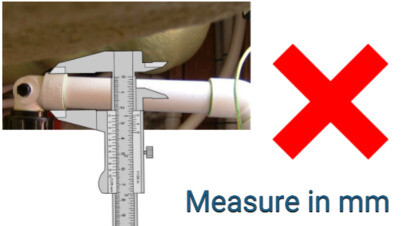 ---
Step 2


Now you know your actual pipe OD (outside Diameter) you can select the correct pipe size. Use the charts bellow work out the size needed based off your actual pipes OD (outside diameter) in mm. Match your measurement with one of the figures in the outer column (Actual Outside Dia. mm)
METRIC PLUMBING
If you are replacing a Metric size pipe the diameter should match exactly. Common metric sizes are 20mm, 32mm, 40mm, 50mm, 63mm, 75mm

Note - Metric plumbing is not that common in domestic hot tubs and is more often used in Pools and commercial spas.
METRIC PIPE


REF
TYPE

ACTUAL
OUTSIDE DIA. MM

20mm
METRIC
20mm
32mm
METRIC
32mm
40mm
MERTIC
40mm
50mm
METRIC
50mm
63mm
MERTIC
63mm
75mm
METRIC

75mm
IMPERIAL PLUMBING
If you are replacing Imperial sized pipe this is where it gets a little confusing. imperial sizes are based on the bore of the pipe and their sizes have no direct correlation to their OD (Outside Diameter)
Note - Imperial pipes are most commonly used in domestic hot tubs & Pools
IMPERIAL PIPE


REF
TYPE

ACTUAL
OUTSIDE DIA. MM

3/8 Inch
IMPERIAL
14mm
1/2 Inch
IMPERIAL
21.5mm
3/4 Inch
IMPERIAL
28mm
1 Inch
IMPERIAL
33.4mm
1-1/4 Inch
IMPERIAL
42.16mm
1-1/2 Inch
IMPERIAL

48.26mm

2 Inch
IMPERIAL

60.33mm

2-1/2 Inch
IMPERIAL

73mm

3 Inch
IMPERIAL

88.9mm
---
Schedule / Class
Pipes manufactured in the USA will go by a schedule whereas European manufactured pipe have a class rating. Both are just a set of standards for the pipes pressure rating which will have an effect on the wall thickness of the pipe. without effecting the OD. The thicker the wall the higher the pressure rating. In most domestic hot tub or pool settings the pressures used are well below the entry level of pressure ratings for PVC pipe. Full information and ratings will be visible on our site within the product page.