How to identify your pump
Pumps consist of two main components: the wet end which contains the impeller which moves the water and the dry end an electric motor which turns the impeller. All motors at Hydrospares.co.uk are supplied under European guidelines.



Identifying your replacement pump is quick and simple, however we need the following information to process your order efficiently:
Frame Size. If you have space in your hot tub, go for a 56 frame motor, it is a more reliable option in the long run, offering better durability as they are kept slightly cooler when running.



To replace an existing pump, check the frame size on the label, which should be present on your motor.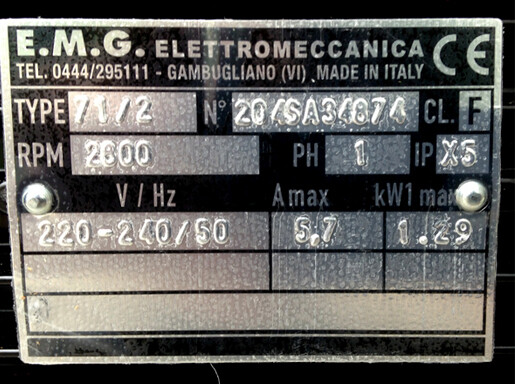 One Speed or Two Speed Motor? If your motor has one RPM number it is one speed and obviously if it has 2 RPM (GIRI) numbers then it is two speed. Make a note of these numbers. Typically 2850 / 1425 for 2 speed or 2800 for 1 speed.
Horsepower. The Horsepower if shown on the label will be great but we need to double check the motor companies' information and we do this by looking at the amp range, this gives us a more realistic picture of the motor's horse power as some spa companies over inflate the horsepower.
230 Volts 7 – 8 amps = 1.5 Horsepower (HP)
230 Volts 9–10 amps = 2.0 (HP)
230 Volts 10–11 amps = 2.5 (HP)
230 Volts 11–12 amps = 3.0(HP
230 Volts 14–15 amps = 4.0 (HP)
Wet End Information. Does your spa pump have Side Discharge (90% of UK pumps) or centre Discharge?




Also we need to know your wet end orientation:



What size unions will fit my pump?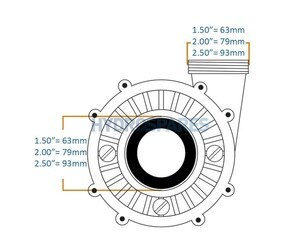 Buttress Thread Unions:
If the pump inlet/outlet (thread tip to tip) measures 62/63mm (2.4") across then it fits 1.5" Unions
If the pump inlet/outlet (thread tip to tip) measures 78/79mm (3.1") across then it fits 2.0" Unions
If the pump inlet/outlet (thread tip to tip) measures 92/94mm (3.7") across then it fits 2.5" Unions

Now you have all these details you should be able to find your new wet end. If you still do not feel confident in identifying your new part. Please feel free to contact us by phone, email or using our online chat below.