Different Types of Swimming Pool Filtration
Different Types of Swimming Pool Filtration - Explained

Proper pool water maintenance is of the upmost importance to keep your water clear, clean & safe. One of the most important equipment pieces which aids keeping that water clean is a filtration system. There are a few designs available on the market, however there are three basic types that are most popular; Sand, Cartridge & DE. Whichever system you use, you will be safe in the knowledge that your pool water is being properly maintained.
Sand Filter's
Commonly known as the bullet proof filtration system, usually made of metal, concrete or fiberglass shell which incases a thick bed of special grade sand. Mostly found in commercial settings OR large domestic swimming pools.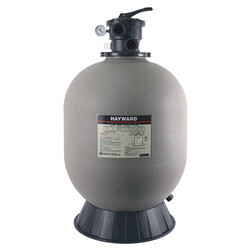 How does it work?
While filtering dirty water from the pool comes in through the filters inlet pipe, which lead to the water distribution head inside the take. Gravity then pulls the water down through the sand, small sand particles catch the dirt & debris. At the bottom of the tank the filtered water flows through the pickup unit & out the outlet pipe.
Why does it have pressure gauges?
If the water flow is slowed by dirt & debris, pressure gauges at the filter inlet and outlet give the pool owner an indication of the blockage level inside. If the inlet pipe has more pressure than the outlet pipe, there is a collection of debris in the sand. This would then require you to backwash the filter, to resolve the issue.
Does the sand require changing?
Coarseness of sand traps debris particles and over time the sand will become smooth and round & will no longer be as effective. Most sand filters suggest to replace the sand every 5 years depending on usage.
Advantages
Cost effective
Low maintenance
Simple design
Reliable
View our comprehensive range of Sand Filters - Click Here
Cartridge Filters
Cartridge filters are designed to accommodate smaller in-ground & above ground pools and spas without the need of filter media OR backwashing.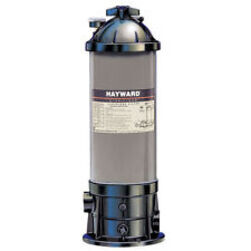 These types of filters have become more popular in recent years as they can screen out twice as much dirt & debris as a sand filter. The larger filtration area allows the water to pass through the cartridge removing smaller particles.
Maintenance is much easier in that there is no backing washing required, which perhaps could save thousands of litres of water a year. All you have to do once or twice a season is to remove the cartridge out of the system and either replace or clean.
Main Advantages:
Save on water - as no backwashing is required, this could result in saving thousands of litres of water per year.
Save on energy costs by utilizing lower pump pressure
Less wear and tear on the pool pump
Low maintenance – most cartridge filters only need to be cleaned once or twice a season.
Easy to install – Less plumbing is required due to there isn't any backwash piping required.
More compact – Generally cartridge filters are smaller & take up less space in a plant room.
Removes particles as small as 10 to 15 microns
Larger surface area screens more particles
View our comprehensive range of Cartridge Filters - Click Here
DE Filter
(Diatomaceous Earth) this filtration system is one of the most popular on the market as it can catch dirt & debris as small as 3 - 5 microns.

How does it work?
Diatomaceous earth is a porous powder with microscopic openings, that look like tiny sponges. Clear water can pass through these openings, but particles, as small as one to 3 to 5 microns, are trapped during the first pass through the filter media. These filters have internal elements that become coated with D.E. It is this 'filter cake' that strains dirt, dust, algae, and some forms of bacteria from the water.
Similar to sand filters, when D.E. filters become dirty, they are cleaned either by backwashing, or regenerating and draining the clogged D.E. to the waste line. To restore filtration, a fresh charge of D.E. is added to the filter directly or separate skimmer.
Advantages
Catches debris as small as 3 - 5 microns
Previous filter media is replaced with every backwash & recharge
Bacteria is kept to a minimum
Algae can be killed & treated quicker
Cost effective
Easy to maintain