Now Stocking CT1 Sealant & Adhesive!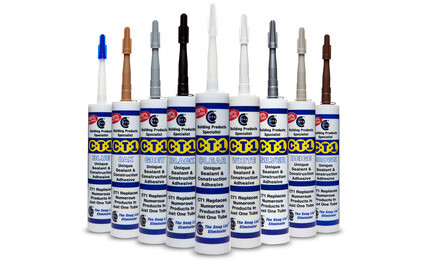 EC1 Certified
Can be applied on wet surfaces, even under water! Unique adhesion on virtually any material in most applications without the need for additional fixings. CT1 is the ultimate solution for sealing.
Odourless
Does Not Shrink
Uniques Flexibility
Can be Painted
Antifungal
Containes No Solvent
Contains no Isocyanates
Enviromentally Friendly
Excellent Resistance to Chemicals
Prevents Bacteria Growth
UV Resisant
Excellent Resistance to Vibration
CT1 will successfully bond:
all metals (including lead) glass, mirrors, all woods, polystryene. fibreglass, tiles, concrete, most stones (without staining), most synthetic materials, plastics (excluding polyproplene). For appl.ication advice on powder coated substrates contact a powder coating manufacture.
CT1 is the Ultimate Solution for bonding;
showers, baths, sprouting, guttering, virtually anything.
CT1 can be used in the Food Industry as it conforms to EU Food Preparation Regulations.
CT1 is ETAG approved for the sealing and bonding of watertight covering kits and panels for wet room floors and walls.
Colours Available:
White, Clear and Black
Application:
cut nozzle to desired diameter and apply. All surfaces must be clean and free from loose materials.
Coverage:
9.25m x 6mm bead
Downloads & Articals:
Safety Data Sheet - Click Here
CT1 ETAG Approval - Click Here
CT1 Product Information - Click Here
CT1 Colour Range - Click Here
CT1 Food Certifcate - Click Here
More in Products News

We are pleased to announce a new partnership with O'Care, a dutch company who have developed a natural spa water care product that is already getting some great feedback in the industry.
Hydrospares will be distributing O'care in the UK.

O-Care helps to remove and prevents biofilm and constantly cleans the spa meaning you need less chemicals and it protects your spa components. It's made up of a mixture of high quality minerals so it makes your spa water more natural and it will leave your skin soft and odourless.

Are you in the Removals, Storage or Hire industry?
Are you tired of struggling with bits of old carpet or duvets to drag large or bulky items?
Then you need the "Move It Sled"

Just look out for the spare parts icon on the main pump listing.